Cow games
We have 2 cow games Free
You are a farmer who loves playing baseball. It is summertime and all your friends are out of town. So, you have decided to play with your dear cow, Maggie. She is a good pitcher, will you be able to bat all the balls?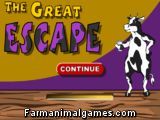 Lilly, the cow needs calcium to keep her bones strong and healthy. So, she is visiting the Great Calcium Fair. Help her collect as many food items as you can along the way.
¿Te gusta farmanimalgames.com?
Most played
Required plugins